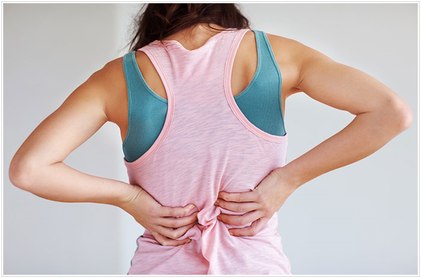 Ahh breasts, beautiful but burdensome. Back pain is the number one condition that physical therapists treat and often what we wear (or don't) under our clothes can have an impact on our posture, and thus, on our back pain.
Breasts are heavy! Check out this chart from Wikihow
Bra sizes 32A, 30B, 28C = about .5 pound per breast
Bra sizes 34A, 32B, 30C, 28D = about .6 pound per breast
Bra sizes 36A, 34B, 32C, 30D, 28E = about .7 pound per breast
Bra sizes 38A, 36B, 34C, 32D, 30E, 28F = about .9 pound per breast
Bra sizes 40A, 38B, 36C, 34D, 32E, 30F, 28G = about 1.2 pounds per breast
Bra sizes 42A, 40B, 38C, 36D, 34E, 32F, 30G, 28H = about 1.5 pounds per breast
Bra sizes 44A, 42B, 40C, 38D, 36E, 34F, 32G, 30H, 28I = about 1.7 pounds per breast
Bra sizes 44B, 42C, 40D, 38E, 36F, 34G, 32H, 30I, 28J = about 2 pounds per breast
This weight contributes to the stooped, rounded shoulder posture that many of us already have from sitting most of the day. A big chest can throw off body mechanics to cause extra strain on the neck and back. Do you suspect that your  chest  is straining your neck and back? One clue is to look at your shoulders. Take note of any reddened grooves caused by over-weighted bra straps. One easy way to distribute the weight of your breasts and ease stress on your shoulders is wearing a bra with thicker straps. Standard bra straps are about 1/2 an inch thick. Try moving to a bra that has 3/4 inch thick straps or wider. This will decrease the pressure at your shoulders and onto your trapezius muscles (the muscles often involved in a neck strain/sprain).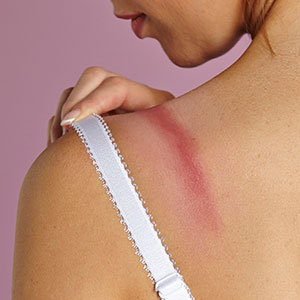 Note any redness and grooves.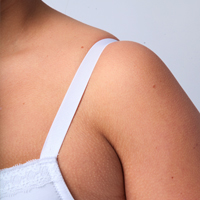 Try a bra like this one, with wider straps: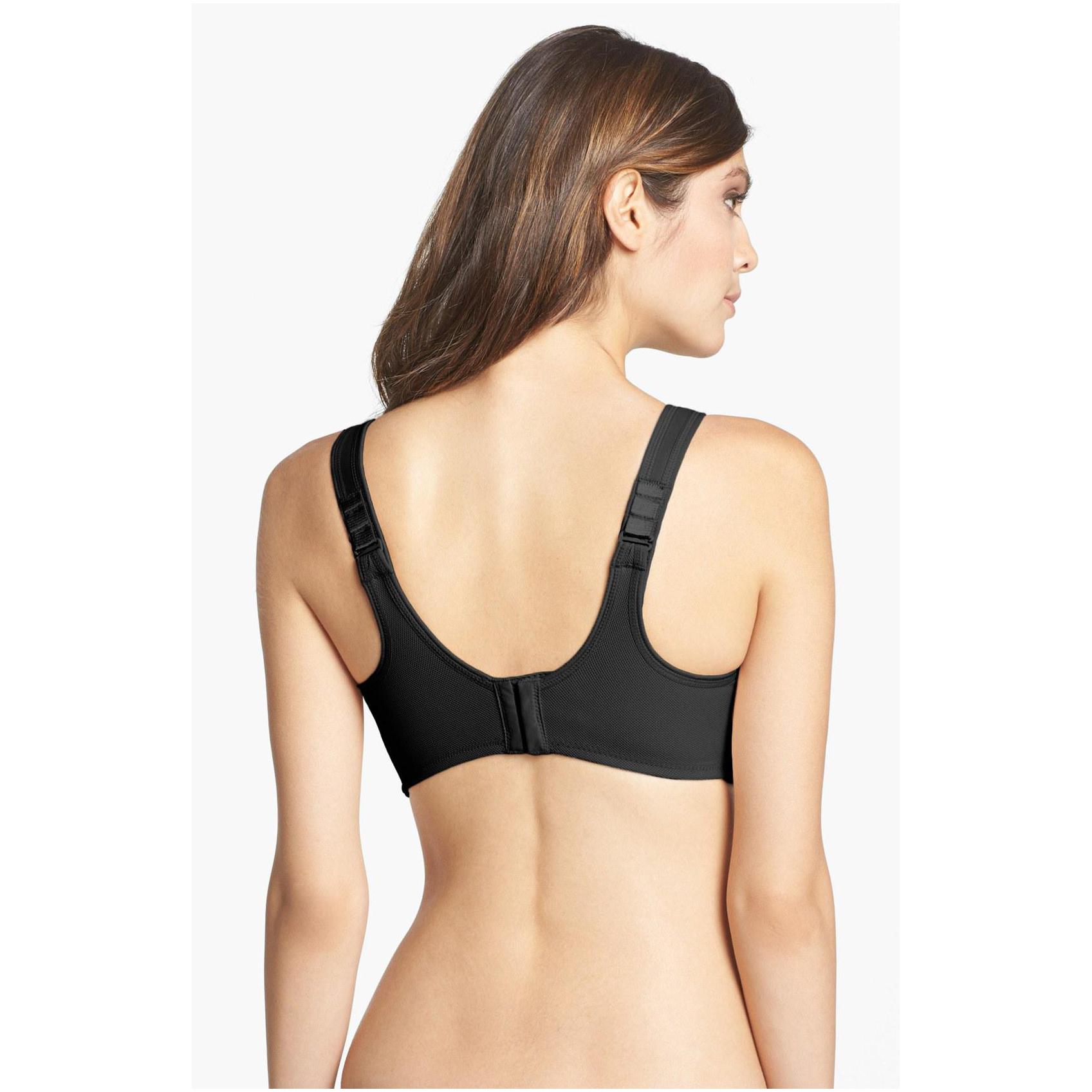 The length of your bra straps is also important. If your breasts are resting too low, it might cause additional strain to your neck and back. When you look in the mirror, your nipples should be halfway between your elbows and your shoulders as pictured below.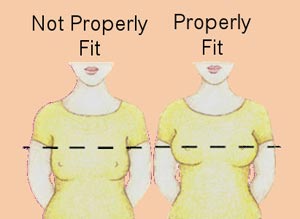 Cup size is also an important factor, if you are spilling out of your bra, weight distribution is uneven and can disrupt body mechanics. Aim for a full cup rather than a demi cup so you are maximally supported. Most lingerie stores will offer free measurements, so take full advantage.
If you feel like you bra fits perfectly and is not the culprit behind your pain, going to physical therapy is a great way to get to the root of the problem. Physical therapists are experts at treating movement and neuro-musculoskeletal disorders. Pain often accompanies a movement disorder, and physical therapists can help correct the disorder and relieve the pain. Physical therapy is a holistic non invasive treatment that has low risks and side effects. Treatment is always customized to each individual patient.